Circus Arts have always been a part of the curriculum of Waldorf Schools since the beginnings of Waldorf education. At Desert Marigold School, "Circus Waldorkus" was started in 2011 by teacher and administrator Deana Douglas. In 2014-2015 Jens Larson began coaching the club with Deana serving as assistant-coach and administration liaison. Starting in the 2021-2022 school year, Circus Waldorkus has been a program of Phoenix Youth Circus Arts, under Jens' direction.
THURSDAY CIRCUS CLUB – "Circus Stars"
4th and 5th graders will meet on Thursdays from 2:15 – 3:45PM. Pick-up is at 4:00PM at the school parking lot. Club members will learn the basics of all the circus arts such as juggling (balls, rings, scarves, flower sticks, diabolos, hooping, poi), balancing (tight wire, rola bola, unicycling), acrobatics (tumbling, partner acrobatics, and human pyramids), and clowning! This year, for the first time, aerial arts will be offered (silks and lyra). No prior experience is necessary, only a desire to attend regularly, try new things, and work cooperatively and creatively with other members of the club while learning how to perform. The club season ends with a show for family, friends, and the entire school community together with the Wednesday "Circus Troupe"
Classes will be held outdoors and club members are expected to help set up and pack up the mats and equipment for each club practice session. In the event of bad weather, we will try to find an indoor space where we can still work safely.
WEDNESDAY CIRCUS CLUB – "Circus Troupe"
All club members in 6th grade and above will meet on Wednesdays from 2:15 – 3:45PM. Pick-up is at 4:00PM at the school parking. Club members will learn all the basic circus arts (similar to the younger group) but will also learn stilt-walking and more advanced skills in all disciplines as their ability and experience allow. Students in this group will be invited to perform at school events such as Winter Faire and will occasionally be invited to represent Desert Marigold School at other public events throughout the year.
Classes will be held outdoors and club members are expected to help set up and pack up the mats and equipment for each club practice session. In the event of bad weather, we will try to find an indoor space where we can still work safely.
AERIAL ARTS!
Once again, our club activities will include aerial arts on our outdoor rigging. Both the Wednesday Circus Troups and the Thursday Circus Stars will be able to learn the fun and challenging arts of aerial silks and lyra (hoop).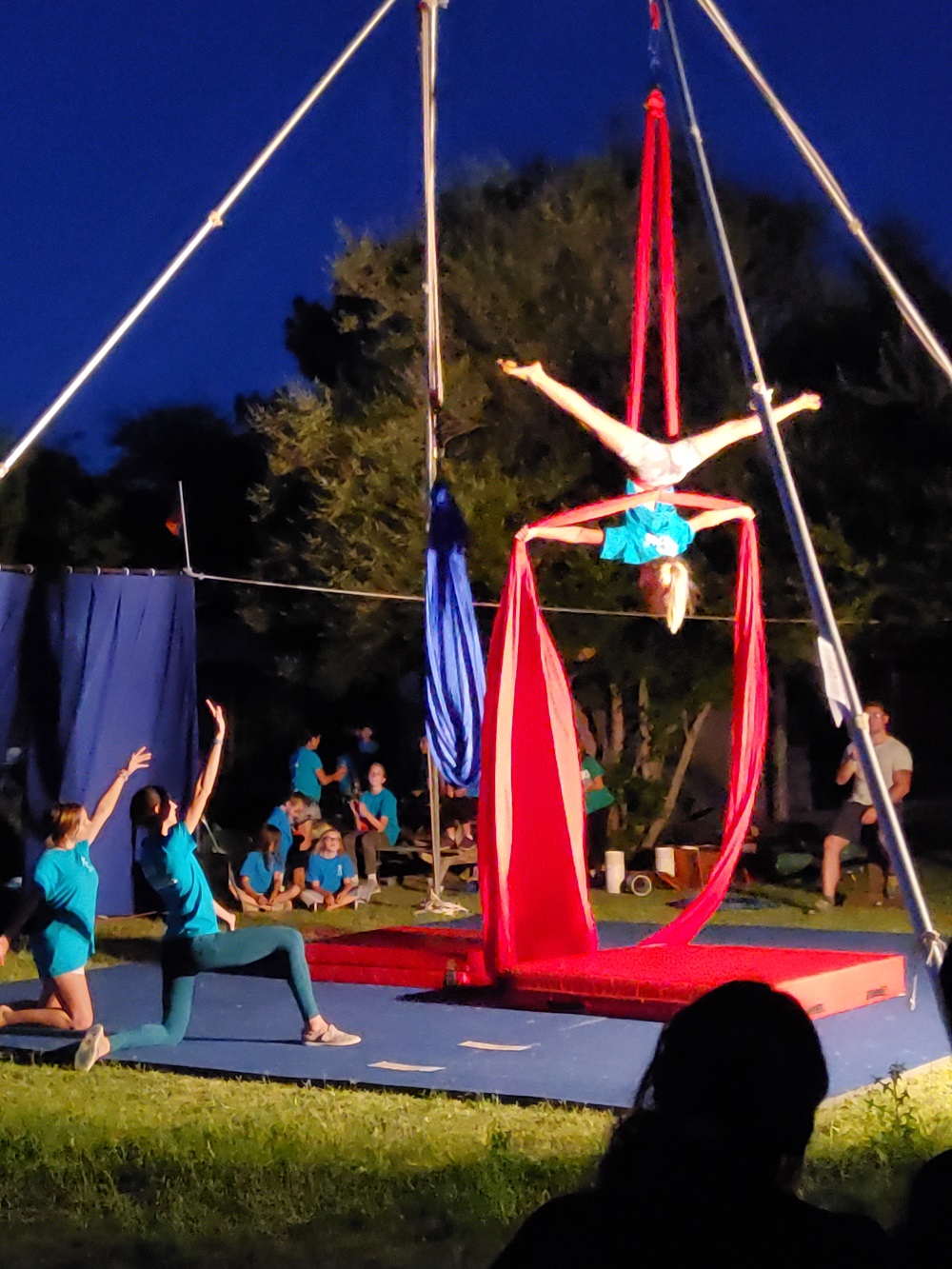 COVID SAFETY
Unbelievably, the covid pandemic is still with us, but in a very different form from the last two years. We will follow school protocols with regard to quarantine and we hope there will be no disruptions to our program (or our lives!) like we experienced in 2021-2022. Because of the close contact we engage in, we reserve the right to adopt policies that may be more strict than is followed for other outdoor activities.
How to Join the Circus Club
To register for the club, parents must:
Club Calendar
It is expected that circus club is a commitment for the entire school year. In order to make it easier for families to budget and plan, club fees are collected on a semester basis. If for some reason a student will not be continuing throughout the entire school year, please inform the director in writing so we can plan ahead for the correct number of students.
Click here for the 2022-2023 club calendar
Key date Saturday, May 13: date for final show. Please keep this date in mind and avoid scheduling family events that conflict with this if at all possible!
Additional Events
Optional events outside school and club practice time are offered periodically. Such events have included weekend workshops with specialty instructors, group attendance at circuses that are nearby, field trips to a local flying trapeze facility, and performing at local festivals. Parents are encouraged to share information and ideas about such activities with the coaching staff – participation in these can greatly enrich the circus club experience.
Club Fees
Club fees will be calculated on a semester basis at the rate of $15 per session. Payment can be made for the full amount of the semester by check or credit card (see instructions below). If special circumstances require financial assistance or a payment plan, please contact Jens directly at jens@phxyouthcircus.org Otherwise, payment for an entire semester is required for membership in the club. If a student joins the club after the starting date, a pro-rated payment can be made by check.
Checks can be made out to "TAPAZ-PYCA" (the Technical Assistance Partnership of Arizona – tapaz.org – is the fiscal sponsor of PYCA. TAPAZ sponsors many small non-profit community projects and is a branch of the Vitalyst Health Foundation).
Credit card payments can be made by clicking here
Wednesday Circus Troupe first semester: 9 practice sessions: $135
Thursday Circus Stars semester first semester: 9 practice sessions: $135
Wednesday Circus Troupe second semester; 18 sessions: $270
Thursday Circus Star second semester; 18 sessions: $270
What to Bring / What to Wear
Club members should bring a water bottle to practice sessions, and wear comfortable movement clothes (no jeans).  Leggings/tights and leotards are good for aerial work but not required. Shirts that can be well tucked-in are important. There is some time between school dismissal and the start of practice sessions – that time can be used to change clothes if needed and eat a small snack as well. Jewelry can be a hazard when a student is spotted by a coach or doing partner work and should be removed before practice sessions.
Circus Club Coaches
Orlene Carlos
Orlene Carlos is the lead coach for the circus club. Orlene trained in China and also at the Clown Conservatory at San Francisco's Circus Center. Her main roles currently are foot juggler, clown, mother and multidimensional time traveler. She's performed in tents, theatres, the streets and ashrams all around the world. She loves connecting with people from all different cultures and countries and ways of life. Orlene and her children have been seen with the Zoppé Family Circus, Flynn Creek Circus, Circus Monti, Circus Bella, Piccolo Zoppé, Krystallpalast Variete, America's Got Talent, the Ellen Degeneres Show and had fun times on the Gong Show. Orlene has enjoyed teaching children of all ages. She has directed circus camps and programs across the country and is excited to be on the DMS circus team again this year!
Katherine Coleman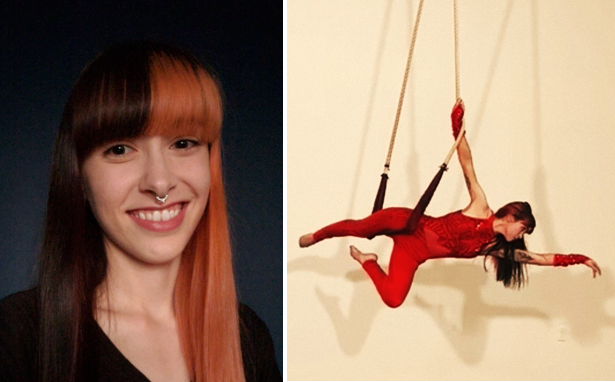 Katherine Coleman has been training aerial arts since 2019. Her current disciplines include trapeze, lyra (solo and duo), and silks. She frequently performs around the Phoenix area and recently competed in Aerialympics in Oregon. For six years Katherine taught in preschool and swim school settings. In 2022 she began to combine her passion for circus with her love of teaching children. When not teaching circus, she works at a wedding venue with her fiance, Phillip.
Jens Larson
Jens is the director and founder of PYCA. He spent 19 years performing many different acts in circuses in the USA and the world, then 14 years as a high school educator. In 2015 he starting PYCA and became a circus educator! (Additional pics, info, and video links for Jens)