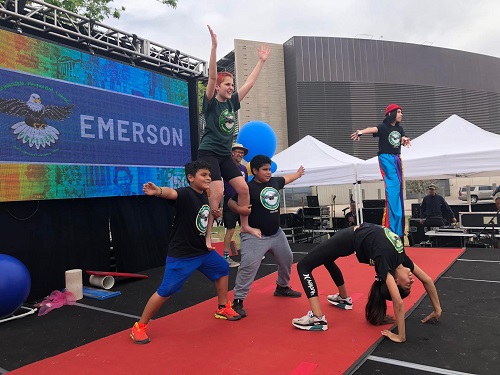 We are back!
Ralph Waldo Emerson Elementary School re-started its circus arts club almost two years to the day after the pandemic caused the club to stop meeting in March 2020. About 20 students were able to meet eight times and begin learning circus arts. There was also a circus component to the half-day Emerson summer camp during the second half of June. We look forward to having our circus club going again in the 2022-2023 school year.
When: Wednesdays from 1:45 – 3:15PM
Where: The Emerson Gymnasium
What: Students learn juggling of many types; balancing on tight-wire, rola-bola, stilts, unicycle, rolling globe; and acrobatic forms such as tumbling, human pyramids and mini-trampoline. Students work individually and in groups with experienced performer/artist/coaches.
Five students from our 2019-2020 club represented Emerson for a public performance at the celebration of the 150th anniversary of the Phoenix Elementary School District on March 26th, 2022. We look forward to more opportunities to integrate the circus club fully into the school community and the community at large.
Students who wish to be involved but have not yet turned in a registration/waiver form should pick one up in the school office. OR you can download a waiver and turn it in to the office. Also available is a waiver in Spanish.
Questions?: Call or text Jens at 480-444-8617 or write to jens@phxyouthcircus.org