Our 2023 Camp is currently sold out! Thanks for your support and interest in our program. If you would like to be added to a waitlist in the event there are cancellations, please write an email to jens@phpxyouthcircus.org. Please specify which week or weeks you are available for and include a phone number.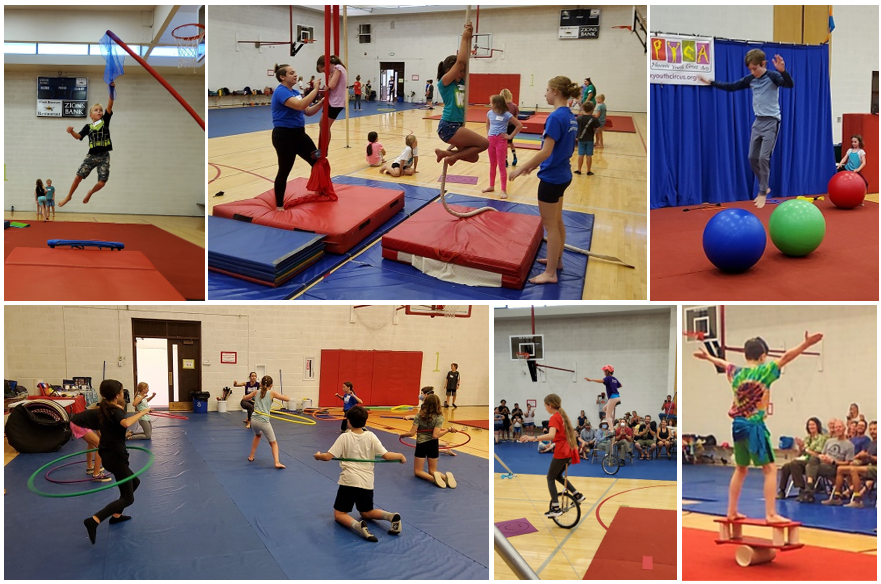 Circus Camp is such a high-quality, enriching program, the likes of which children in Moab do not often have the opportunity to participate in. Jens and his crew are great with the children; the amount that they learn in one week is very impressive! I can not recommend the Circus camp enough. We are truly lucky to have such an outstanding program come to Moab each year. — — (Annie Thomas camp parent 2017-2020)
Phoenix Youth Circus Arts will return for its seventh summer in Moab, Utah in July 2023! We will once again be in the City Gym for two weeks in July.
CAMP DETAILS
Session 1: Monday July 17– Friday July 21
Session 2: Monday July 24 – Friday July 28
(Campers can attend either session or BOTH sessions)
Camp Hours: 9AM – 3PM (drop off begins at 8:30AM)
Location: City Gym, Center St, Moab, Utah
Who can sign up? kids ages 7 – 15
What will the kids do? Campers will learn all the circus basics – juggling of different forms, acrobatics, balancing, aerial skills (such as silks, lyra, Spanish Web, trapeze) and clowning. Each camper gets to try all the different skills and then towards the end of the week they choose two skills to specialize in. The last day of camp finishes with a show for family and friends!
Cost: Circus camp sessions are $200 per week. Limited scholarships will be available for some campers whose families need financial help using a sliding scale "pay-what-you-can" system. Contact Jens (jens@phxyouthcircus.org) for more information on scholarships.
Payment: Registration and payment for the Moab, Utah camp can be done via credit or debit card by clicking here . Payments are made to the "Technical Assistance Partnership of Arizona". (TAPAZ is PYCA's fiscal sponsor). Payments can also be made by personal check made out to "TAPAZ-PYCA" and mailed to the contact address on this website.
Cancellation policy – Full payment is due to register for camp. If you need to cancel your registration, you can receive a full refund if the cancellation is within 6 weeks of the date of purchase and more than four weeks from the start of the camp session you have paid for. Less than four weeks prior to the start of a camp session, credit will be given for camps in the future and handled on a case-by-case basis.
Registration Form – each camp participant must have a completed registration and liability waiver form by the beginning of camp. You can view and download the form here. For "name of class", write Moab Summer Day Camp. The form can also be filled out at the first day of camp – but no child will be able to participate fully without a signed waiver.